The Modbarn specializes in space savings solutions. Our Custom furniture designs and builds are meant for the 'not-off the rack' spaces. Our modern wall (murphy) beds and barn doors transform everyday living spaces into elegant yet functional masterpieces, modifying your space in ways you didn't think was possible before.
Create a design from scratch, start from a picture, or let us propose some ideas. The design and inspiration are uniquely yours.
We take your vision, engineer the build, and create the finished product of your dreams.
Once your order is in the finishing stage, we will schedule a delivery/install date with you.
We are continually adjusting to business, in-spite of Covid-19. Most of our design work and estimates can be done through email exchange. Pictures of your space, with approximate dimensions along with an inspiration picture gives us a foundation to work on a design for your space.
Our showroom on Venice Blvd is open Monday - Saturday for walk-ins. Sundays are appointment only. In addition, virtual consultations can be booked Tuesday – Saturday. Given current times, in-home consultations are scheduled once we do a preliminary design & determine the estimate is in your project budget.
~We practice all safety measures with all personal interaction and ask that you do the same.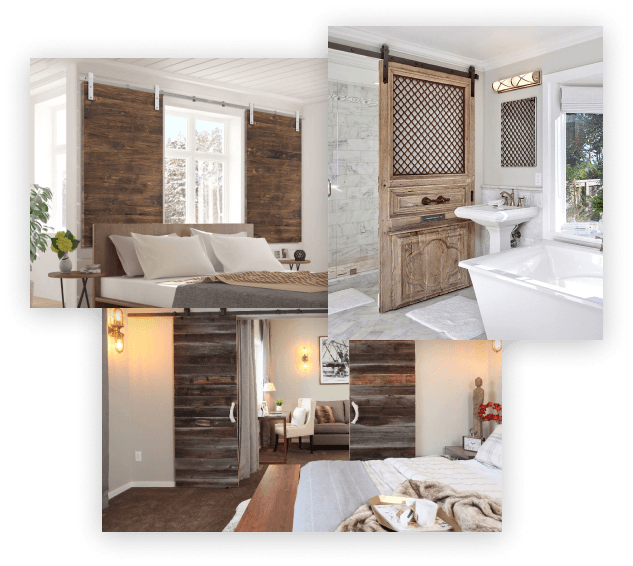 Unique lifestyles and remodeling innovations have given rise to the wide selection of interior barn  doors. Barn doors give options to close off spaces or separate large rooms adding to privacy and function. All  the while adding character to your space. 
MAKE THE MOST OF ANY ROOM
Wall Bed Designs – Style, Class, Character & Function 
Optimize your space when you are not using your bed. Wall beds aka Murphy bed will give you multifunctioning room options, home office, virtual school room, workout studio, and more. A wall bed  in your space, is like gaining more square footage without the costs or the mess of a construction  addition.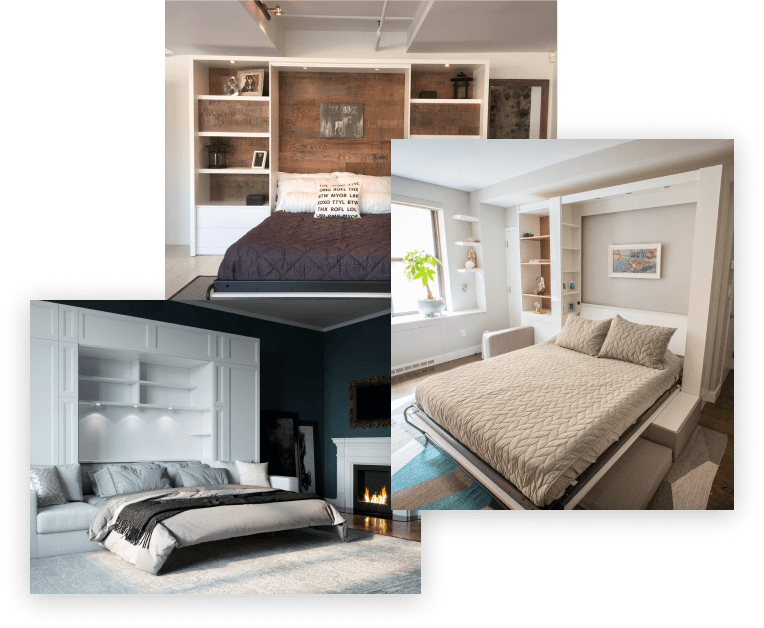 What our clients say about us
Marco R
Absolutely awesome work! Ryan and Wendy helped me plan out my bar. Everything was on point and couldn't have asked for a better turn out. They're great people and gave me a great deal. I'd recommend them because they know what they're doing. My customers are raving about our the new bar.
Rachel B
We got a door installed for our pantry in August. We love it! It is absolutely perfect and all of our guests who visit comment on it. It is really great work and we are really happy with how it turned out. Thanks Mod Barn!
Robin W
I just love my new barn doors. Excellent professional service from the ordering, custom design and installation. Brings the room to the next level. I highly recommend the Mod Barn. Ryan was amazing and attentive and the finished product is perfection.
Barbara L
We love our barn door! It's the best piece in our new house. Ted provided us with very thoughtful information to help us with the design of the door. We settled for reclaimed wood with an industrial handle. It's a show piece! Ted did a horizontal design and blended the wood beautifully to bring out the various natural tones. We absolutely love it! We received great service from Ted and from the installation crew, which was seamless and high quality. Thank you so much to The Mod Barn
Bill H
We went to The Mod Barn to look at some Sliding interior Doors. The Staff were very helpful and the shop was amazing. We liked the displays and the showroom settings. The Doors came in perfect and really set off our home right! I really like how the Slider Doors update our home and give it the perfect Custom Country look we need.
We love the Bedroom furniture we had made by Ryan also! Very sturdy and solid! The prices were excellent and the service was spot on!
This shop is a perfect one stop shop for all our interior needs! Thanks again! We will do business again soon!